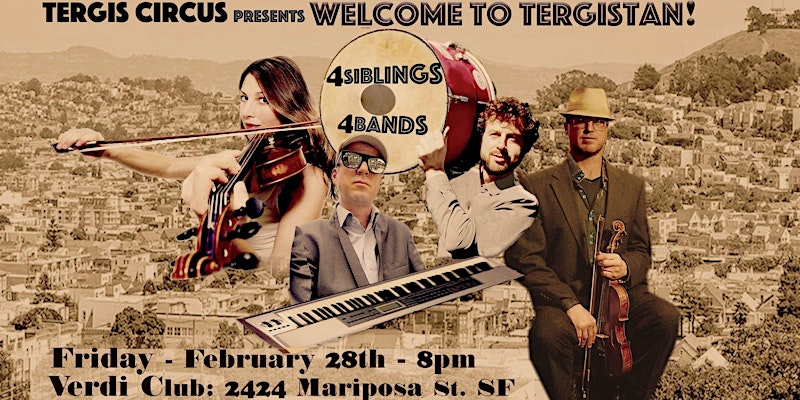 Saturday February 28th 2020:
Tergis Circus Presents 'Welcome to Tergistan'
4 Siblings, 4 Bands   8pm-1am
Verdi Club: 2424 Mariposa St, San Francisco CA
Tickets: $25 via Eventbrite
Four musical siblings, raised in San Francisco and now world class musicians – the oldest, Athena Tergis, being a featured soloist with the Dublin Philharmonic Orchestra and former star of the acclaimed Riverdance – will all be coming together in a concert featuring their four bands for this one night only concert. The Tergis siblings, who play separately as artists on an international scale, are also known locally as a family indispensable to the San Francisco Bay Area music scene and reflective of its unique multiculturalism and diversity. Their enigmatic family was featured in the San Francisco Chronicle in 2006 and the Glen Park News in 2010 which said, "the Tergises are arguably the closest thing to a Renaissance family Glen Park has produced."
San Francisco, CA, February 28th, 2020 – The Tergis siblings, Athena, Lars, Benezra and Sean, are coming together in concert for the first time ever at the Verdi Club, 2424 Mariposa St. in San Francisco for this one night event featuring their four bands playing a mix of musical genres including Irish, Turkish, Balkan, and Afro-Cuban Latin funk/jazz.
Lars Tergis, the oldest of the brothers, will be leading his band, Lars and In Charge, with his driving, gritty interpretations of traditional Turkish and Greek party tunes and his own original compositions. Benezra Tergis will be playing keys with Mobando, a Latin fusion band that has been moving dance floors since 2014 with its Cuban timba sound mixed with R & B and hip hop styles. Sean Tergis, who has toured both locally and internationally and currently produces the weekly San Francisco event, Balkan Sundays, now in its fifth year, will be bringing his band, MWE. Known for their loud, wild, and raucous affairs they draw entire audiences on their feet with their modern and eclectic Turkish and Balkan music. Athena Tergis, flying in for this special concert from Tuscany, Italy where she has lived since 2004, will be gracing the audience with her award winning fiddle playing. Each sibling will be performing with their own respective band as well as sitting in on each other's sets.
Together on stage for the first time, the four Tergis siblings celebrate the multiculturalism and cultural exchange which have come to define the Bay Area's artistic identity. Highly regarded in their respective musical worlds, each of the four siblings bring personal flair and excitement to their performances and will be playing for one night only at the Verdi Club.
This show is all ages.
More information:
Athena Tergis
The eldest of four musical siblings in San Francisco, Athena took up the violin at age four with the Suzuki method, developing her quick ear at an early age. After attending the VOM Scottish fiddle camp, she went on to win the Junior National Scottish fiddle championship three years in a row. She released her first CD, Journey Begun, at age sixteen before moving to Ireland just out of high school where she joined the Sharon Shannon Band and spent three years playing in Galway and Belfast. Athena went to New York in 1999 to star in Riverdance on Broadway before touring with Clarence Clemons of the E-Street Band for over a year. A full time member of ensemble, The Green Fields of America, for nearly twenty years, Tergis also tours and records regularly with founder Mick Moloney. She is a feature soloist with the Dublin Philharmonic Orchestra and her compositions have been performed by orchestras in Asia, Europe and the USA. Athena continues to write and perform with Riverdance composer, Bill Whelan, and many others while also overseeing their winery in Tuscany, Italy where she has lived since 2004. www.athena.cd
Lars Tergis
Lars Tergis, a violinist and composer, directs Lars and In Charge, a musical ensemble with high-energy fiddle tunes from Turkey, Greece and beyond. Lars leads the charge on violin with driving, gritty interpretations of traditional party tunes as well as his own original compositions. Chris Reid adds a touch of 'West' with percussive chordal accompaniment on steel-string guitar. Gopal Slavonic brings his Flamenco guitar chops to bear while Faisal Zedan keeps the beat popping on derbekki, riqq and davul. Joined on stage by some of the Bay Area's top dancers, Lars and In Charge guarantees a big sound and an even bigger party.
Benezra Tergis
Benezra Tergis began playing piano at the age of five and honed his craft growing up among the samba, salsa and street sounds of the Mission in San Francisco playing with such groups as the Brazilian percussion band, Loco Bloco. Now he leads, Mobando, a Latin fusion band rooted in the Cuban timba sound mixed with R & B and hip hop styles. They combine original music and special arrangements of popular songs to please a traditional salsa dancing crowd and/or anyone looking for an urban flavor. The band includes Benezra Tergis on keys, Lina Torio (La Mestiza) on vocals, Eric Mendez and Marlon Aldana on drum set and congas, and Lukas Vesely on bass. Energetic and highly technical, Mobando has been moving dance floors since 2014.
Sean Tergis
Sean Tergis is a percussionist and band leader who brings a unique element to his drumming through many different influences including folk music from the Middle East, Turkey, Greece and the Balkans.Since 2002, Sean has been gigging locally in his home city of San Francisco with various groups then moving to Istanbul in 2006 where he continued to study and perform. Sean currently produces a weekly event in San Francisco called Balkan Sundays and plays with multiple bands including Inspector Gadje Balkan Brass, Edessa, Istanbul Connection, and MWE which he's bringing to the Tergistan stage.
MWE put a modern and eclectic twist on Turkish and Balkan folk music. A five member acoustic wind ensemble, MWE plays traditional songs with the rarely paired clarinet and the double-reeded zurna. Add two clarinets, a saxophone and a davul, a shoulder slung marching drum, and you're about the closest to heavy metal you can get without amplification. Their shows are loud, wild, and raucous affairs known for drawing entire audiences on their feet in one song or less. MWE are often found playing hit-and-run gigs in San Francisco's Mission District. Keep an ear out. They are hard to miss!